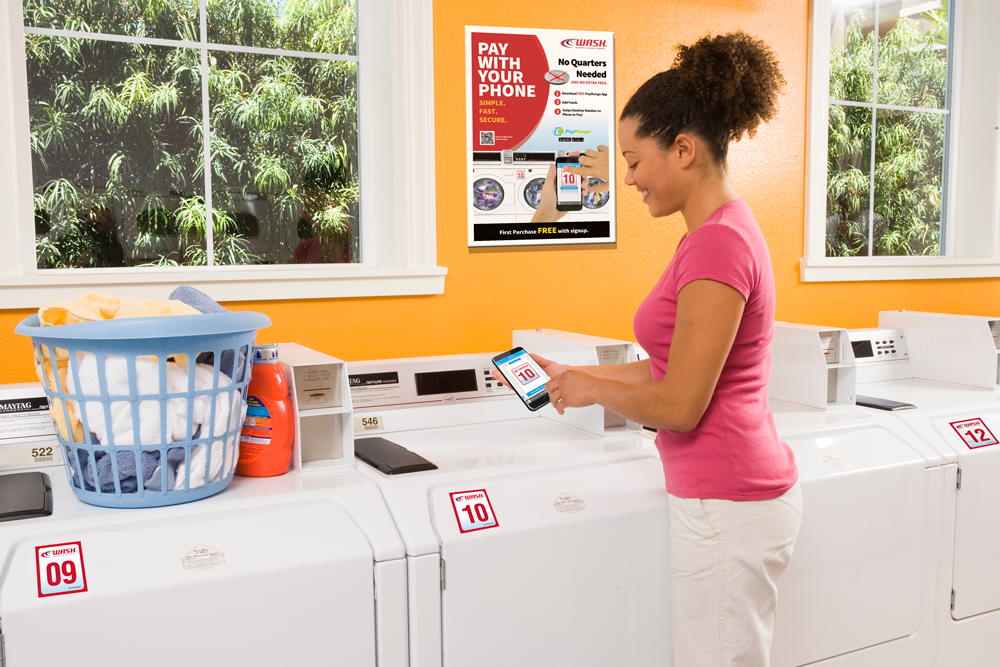 In the past decade, no technology has transformed the consumer lifestyle more than the smartphone. Two-thirds of Americans now own smartphones, and more consumers are using their mobile devices to send and receive payments every day. In fact, experts believe the physical credit card will be nearly non-existent by 2020 as customers will start leaving their wallets at home and begin relying primarily on mobile payments for buying goods and services.
Consumers are coming to expect mobile payment options to be available in all aspects of their daily lives, and laundry is no exception. With WASH's mobile payment solution, you can now provide a quick, convenient and easy-to-use mobile payment system that allows WASH customers to use their smartphones to pay for laundry. The Bluetooth technology provides a fast and convenient way to process payment — no more digging for loose change or waiting for a card to process.
How it works
First, Bluetooth devices are installed into the washers and dryers, which allows residents to connect to the machines via a mobile app. Then, customers download the app (available for both Android and iPhone) that allows customers to manage and load value to their secure app "wallet" and pay for laundry in seconds.
Don't fall behind today's payment trends. Our mobile payment option will enhance your customers' experience and eliminate the need for complex and expensive hardware in the laundry room. If you're interested in making your common-area laundry room enabled for mobile payment, visit www.washlaundry.com/mobilepay.