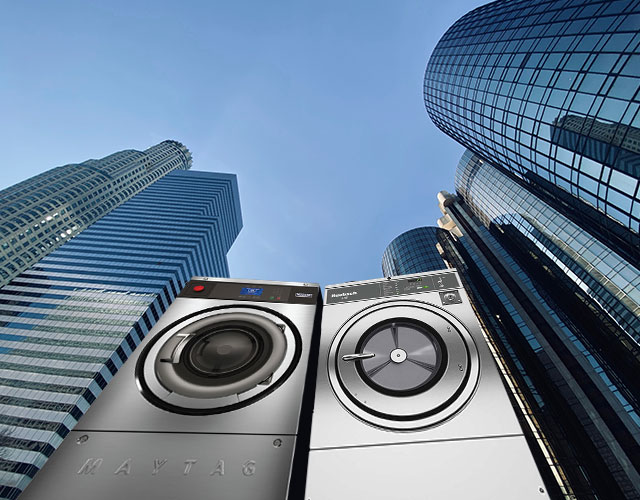 Research shows that the average laundry cost for a hotel with 150 rooms is about $75,000 in a year. As a hotel manager, you may wonder how to reduce such costs. One of your best options, may be to upgrade your commercial laundry equipment.
But, navigating all of the different types of commercial washers and dryers available in the market today may be hard. It may also be challenging to pick the right solution for your hotel if you don't understand the latest laundry technology.
If you select the wrong equipment, you risk increasing your power and water bills. This mistake may also slow down the cleaning process and service delivery.
Here, we explain the different features and options you should look for when getting commercial laundry machines for your hotel. We'll also mention some factors you should consider in the selection process to ensure you buy from the best source.
1. Size and Capacity
One crucial aspect you should consider when selecting laundry equipment is size and capacity. It's advisable to get a one-pound washer for each room in the hotel. For example, if your facility has 100 rooms, buy machines with a total capacity of 100 pounds. For dryers, you should look for machines with 50% additional capacity.
Buying laundry machines whose capacity matches the size of your facility saves time. Instead of your staff lining up to use equipment, they can work simultaneously. You will also avoid piling up dirty laundry and running out of essential items like bed sheets and towels.
2. Technology
When looking for hotel laundry equipment, consider upgrading your technology. Of course, water conservation features built into new commercial washers offer greater cost and energy savings. But there are other features to consider as well.
Smart dosing technology automatically measures and adds the amount of soap and cleaning chemicals to be used, based on water level to minimize detergent waste.
Before buying laundry equipment, check for programmability. Models with this feature will run cycles according to the customized settings. This will help your employees save time and avoid repetitive procedures.
Other than that, confirm if the technology is easy to use. This way, you can avoid training your employees on usage and simplify their work.
The best way to identify the most suitable laundry machine technology is by considering your needs. Check if there are any problems you experience with the current equipment.
For example, do your clients complain that your linens are too rough or stiff? If yes, get dryers with over-dry protection technology.
This feature will ensure that items dry at the optimum temperature and prevent fabric damage. In the long run, you will avoid buying linen frequently and increase customer satisfaction.
Another aspect to consider in laundry equipment is technology to track performance. With such controls, you can quickly determine how much water and electricity the machines use. You may then use this information to identify ways to increase efficiency without lowering performance.
3. Cost of Buying Laundry Equipment
When deliberating between different types of washing machines and dryers for your hotel, determine their costs. The best way to ensure you get value for the money you spend is by researching in advance.
Taking this step allows you to set a realistic laundry equipment budget. It will also help avoid spending a lot of money on machines you would get at a relatively lower cost from a different vendor.
Once you have a rough idea of how much commercial laundry machines cost, identify the needed models. This way, you can narrow down the search to specific features while considering your budget.
If you are unsure about the equipment you need, it's advisable to contact a company that specializes in commercial appliance sales and service. These will help you identify the most suitable laundry machines for the hotel based on various factors. They may also advise you on the most efficient models in terms of water and electricity usage.
4. Laundry Equipment Provider
Before buying laundry equipment, you should consider various reputable providers. After that, determine how many models they offer and their lifespan. Moreover, check if their features and technology are worth the selling price.
An ideal provider is one selling durable and efficient products at a budget-friendly price. When unsure about the brand to pick, look for reviews about their products.
You can get this information on online platforms that rate various commercial appliances. Alternatively, check their websites and those of their dealers for such details.
Then reach out to the provided contacts to learn more about their experiences with the laundry equipment. Here, you can ask various questions to determine if the provider's products are the right fit for your hotel.
5. Efficiency
Laundry machines are among the main reasons hotels have significant utility bills. In particular, these machines can use about 34,000 gallons of water in a year.
When looking for laundry equipment for your hotel, ensure you pick eco-friendly models. Moreover, confirm that they have an ENERGY STAR rating to ascertain their efficiency.
Buying eco-friendly laundry machines reduces costs in many ways. For example, models with temperature controls will clean and dry linen at the optimum temperature. This way, you avoid high electricity bills and energy wastage.
Eco-friendly washers also optimize water, detergent, and fabric softener consumption. Using them in your hotel will reduce the total washes needed to keep linen clean and fresh. In the long run, you can cut down on water usage and enhance the durability of your items.
Contact WASH for Quality Hotel Laundry Equipment
Buying laundry equipment from a reputable provider is the perfect way to ensure you get quality products. At WASH, we have different types of washers and dryers suitable for on-site hotel laundries.
Our products are durable, ENERGY STAR rated, and from trusted manufacturers. Contact us today for high-quality commercial laundry equipment.