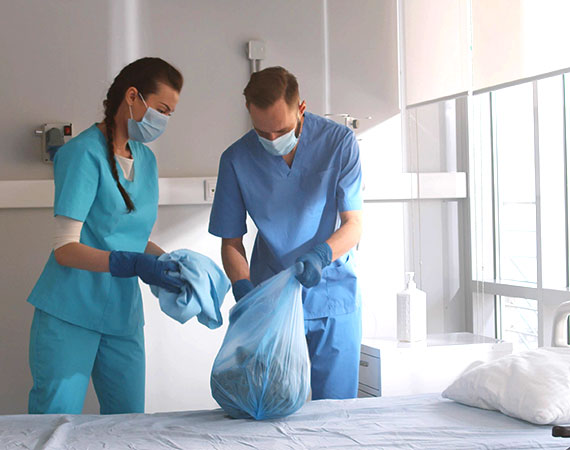 Best practices to keep on-premise laundry facilities clean and germ-free
Now more than ever, keeping healthcare facilities clean and sterile is essential to preventing the spread of infection and diseases, including COVID-19. While there are many critical steps required to slow or stop the spread of viruses and bacteria, every link in the chain is critical to maintain safe patient care – and that includes following proper laundry protocols and procedures.
If you operate a facility with on-premise laundry, these five best practices that follow guidelines from the Center for Disease Control and Prevention (CDC)[1] will help ensure your patients and employees remain healthy and safe:
Use personal protective equipment (PPE).
Ensure anyone handling laundry wears appropriate PPE. This includes providing a handwashing station to practice hand hygiene before application and after removal; wearing tear-resistant reusable rubber gloves when handling and laundering soiled linens; and wearing gowns or aprons and face protection (e.g. face shields, goggles) if there is a risk of splashing – for example, if laundry is washed by hand.
Provide training on proper laundry handling.
Create clear procedures on how to properly handle laundry in your facility to prevent spreading bacteria across additional surfaces or through the air. This may include:
Carefully roll up soiled linen to prevent contamination of the air, surfaces, and cleaning staff. Do not shake linen.
Place soiled linen into a clearly labeled, leak-proof bags.
Never squeeze or carry soiled linen against the body; instead, place it in a designated container for transportation.
If reusable linen bags are used inside the designated container, do not overfill them – tie them securely and launder after each use. Soiled linen bags can be laundered with the soiled linen they contained.
Clean and disinfect the designated container for soiled linen after each use.
Create a dedicated space for laundering soiled linen.
To avoid cross-contamination between clean and dirty laundry, create two separate areas – one for soiled linens and another for handling clean, washed items. Both areas should be free from food, beverage or personal items and should have handwashing facilities and job aids to assist staff with proper procedures.
Minimize bacteria by using hot water or an eco-friendly ozone system.
If using traditional laundry equipment, the CDC recommends health care facilities use approved detergents and a hot temperature of at least 160°F (71°C) for a minimum of 25 minutes. In addition, the use of chlorine bleach assures an extra margin of safety, and chlorine bleach becomes activated at water temperatures of 135°F–145°F (57.2°C–62.7°C).
If using an ozone system such as WASH's EcoTex, harsh chemicals or excessive heat are not required to obtain disinfection and a proper clean. The system works by mixing a catalyst into a cold-water infusion, which is then introduced to the wash load to rapidly clean and disinfect linens. In fact, ozone acts faster than traditional chlorine bleach and eliminates up to 99.99% of harmful microbes in every washed load. One study demonstrated that ozone used in a laundry processing system reduced by five logs the total number of coliforms and E coli present in hospital laundry rinsing water[1].
Regularly clean and disinfect machines and materials.
Ensure all washing machines and dryers are properly maintained according to the manufacturer's instructions. EPA-registered List N disinfectant wipes may also be used on the inside of washing machines and dryers in between cycles to remove additional microbes that may not have been eliminated during the laundry process[2]. Linen hampers may also be cleaned and disinfected using non-bleach disinfecting wipes after each use.
Interested in integrating EcoTex into your facility? It can be easily installed by a technician and is compatible with both existing and new commercial washer-extractors of all make and models – and a guaranteed way to squash germ concerns. Every load will be equipped with the ability to deactivate and remove harmful microbes quickly and effectively – granting safety and peace of mind to you and your staff. Learn more about our ozone systems or contact us today to request a quote.