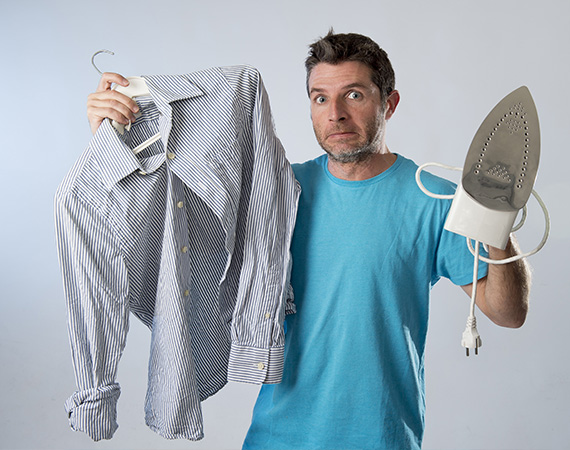 Imagine you've got a big day and you want to look your best. You're doing laundry, and you go to retrieve your clothing from the dryer only to discover it's been reduced to a heaping mess of wrinkles, and there's not a minute to spare! What went wrong? How could this have happened? Let's rewind. We've got an easy-to-follow set of guidelines to help prevent wrinkle nightmares, and some tips to remove them if they do happen.
Preventing Wrinkles
Remove clothing

immediately after the dryer finishes tumbling. Fold or hang immediately for best results.
Don't overfill the drum. Under-filling the dryer also can lead to decreased performance and wrinkles.

One washer load

should equal one dryer load.
Use proper drying cycles for your clothing's materials. Permanent press can be great for wrinkle-prone items like dress shirts, skirts and blouses.
Add a fabric softener to your laundry regimen, or try an all-in-one solution like laundry pods.

Sort heavy materials

from lightweight materials and run separate cycles for each.
If only drying a single item, include additional clothing of similar weight to help ensure proper load balancing.
Removing Wrinkles
If you don't have the time or confidence to break out an iron and you don't own a hand-held steamer, here are some quick hacks to easily remove wrinkles in a pinch!
Place the item(s) back in the dryer. Depending on how severe the wrinkles, you can either re-tumble your laundry on Permanent Press or dry them on high with a damp washcloth inside the drum.
If you don't have time for the dryer, you can spray clothes with a light mist of water and use your hand to smooth. Use a heavier mist and a hair dryer while smoothing the fabric to spot treat problem areas.
Many big laundry brands offer wrinkle releasing sprays for an easy, on-the-fly fix.
Utilize the steam from a hot shower to relax fabric.
Try a hair iron to smooth-out wrinkled collars on dress shirts.
Follow these simple steps and you'll never have to settle for a rumpled outfit that looks like it was plucked up off the floor! Check out more of our helpful articles, videos and guides on our website and social media!