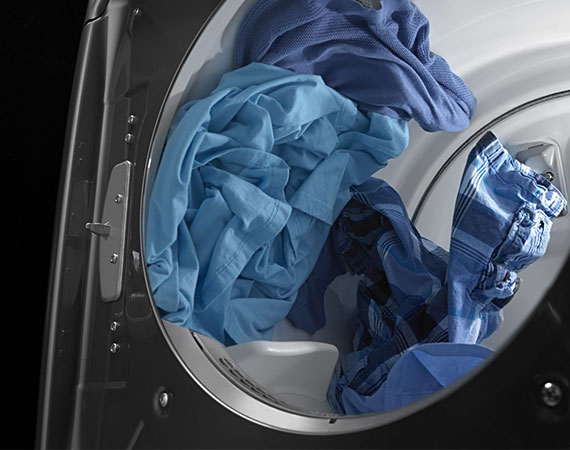 As a facility operator, purchasing equipment for your on-premises laundry can present with an overwhelming number of choices with real, long-term implications. Whether you're looking to update outdated hardware in an existing facility or furnish an entirely new location, the purchases you make now will affect numerous factors down the line for your business. Among those decisions is the selection of dryer models and options, including the inclusion of newer reverse-tumble drying technology. At first glance, one could gather that there must be pros and cons to both regular and reversing dryers. However, over time, it is truly no contest. Dive in with us below as we discuss reversing dryers, how they work, and how they can impact your on-premises laundry facility.
What is a Reverse Tumble Dryer?
A reversing dryer is, in its most basic explanation, a dryer that can change the rotational direction of its drum mid-cycle. Yep, that's it! However, as small as the difference may seem, the results inside the drum can be dramatic. On a more technical level, a bypass is installed to allow for the computer controller inside the drum to accept reverse rotation, as well as hardware changes to support the rotation of the drum in both directions.
No Twisting and Tangling – And Quicker Dry Times!
When stopping and switching the rotational direction of the drum, the dryer improves its function in numerous ways. First, the tangling and twisting of materials is greatly inhibited by the change in rotational motion. By solving the twisting and tangling issue, long and bulky items will also dry more evenly and completely. Secondly, reverse tumble dryers will usually bring a load to complete dryness much more quickly than a traditional tumble dryer – and saving drying time means saving energy and money. Loads completing quickly also improves load turn times for customers and staff, increasing efficiency and potential revenue. Ultimately, the appearance of your linens will show the effects of a higher quality drying experience.
Recoup Your Costs
So, all of these perks may leave you thinking, "Okay, where's the catch?" There isn't one! Well, not really anyhow. Reverse tumble dryers tend to have a higher initial purchase cost due to the additional technology and hardware required, but the cost difference will be easily offset in the long term due to the decreased energy consumption. You can even claim your new machines for bonus depreciation in the following tax year, potentially recouping the entire cost of your purchase. Your staff get a better experience, you save money in the long term, and you're helping to save the planet. What's not to love?
Partner with the Pros!
Our machine sales division carries a full range of reversible cylinder dryers from top brands, including the following models:
Electrolux T series — Models T5290, T5550, T5675 and stacked models T5300S and T5425S
Wascomat D Series – Models D735, D767, D783 and stacked models D735S and D750S
Maytag Commercial – Models MDG35PN, MDG52PN, MDG78PN, MDG75PN, MDG170PH, and MDG120PH
ADC Dryers – AD-30V, AD-50V, AD-758V, AD-115, AD-120, AD-170
Check out these, as well as our full line of dryers and washers for on-premise facilities here!
If you're considering the purchase of equipment for your on-premise laundry facility, consider WASH! We're the expert in laundry for more than 70 years and offer competitive pricing, expert installation, innovative technology, and unmatched service. Contact us or call 800-236-5599 to learn more about our distributorship relationships, special discounts and available financing!