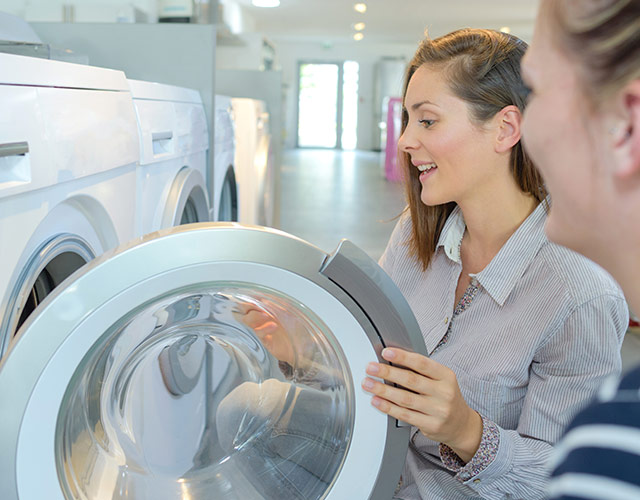 Looking to buy washers and dryers for your apartment's common-area laundry room? Now you can purchase laundry machines directly from WASH.
A leader in multifamily laundry since 1947, WASH sells top-brand commercial laundry equipment specially designed for multifamily settings, so you can rest assured that your new washers and dryers will stand up to the heavy demands of your apartment's busy common-area laundry room.
Buy New Laundry Equipment
Featuring Speed Queen, Maytag and Whirlpool commercial washers and dryers, WASH has a variety of new laundry equipment for sale.
Top Brand Washers and Dryers for Sale
Shop WASH's extensive inventory of top brands and a variety of washer and dryer models for sale. Before you purchase, be sure to compare the various features and machine options available:
Front-Load High Efficiency Washers — Front-loading washers save water by using low-water levels in the wash and rinse. Because they extract more water in the spin cycle, they also can save on energy consumption needed for drying.
Top Load Washers — Conventional agitator-style washers typically cost less but may use more water and energy.
Heavy-Capacity Dryers — These commercial dryers have a heavy capacity to handle bigger loads of laundry.
Stackable Dryers – Great for large or small laundry rooms, these stacked dryers conserve floor space.
Stackable Washer/Dryer Combos – Available with space-saving configurations.
Payment Options
All WASH laundry machines available for sale can be outfitted for coin or card payment.
Sales, Delivery and Installation
When you purchase a new washer or dryer from WASH, we're with you every step of the way.  Let our experts help determine the best machines for you to buy for your laundry room. And, we can even handle the delivery and installation.
Get a Price Quote
Learn more about our washer or dryer sales or get a price quote:
visit www.wash.com/self-operated/
or call 800-421-6897.