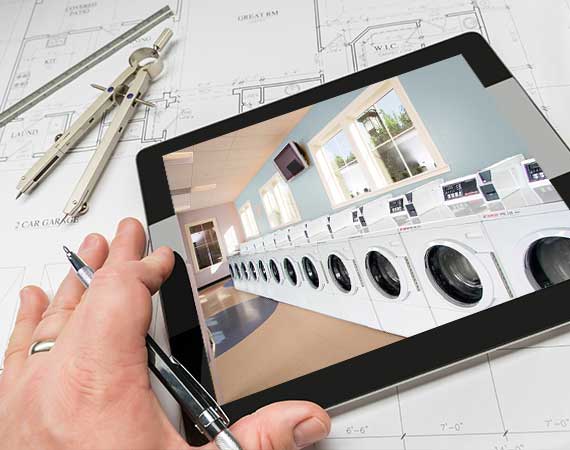 When it comes to multifamily properties, the importance of professional laundry room design cannot be overstated. Every aspect of planning and design must be given careful consideration, as each can affect the efficiency and success of your laundry facility – not to mention the satisfaction and safety of your residents. Studies have shown that proper laundry room design will improve resident satisfaction, decrease risk of fire or catastrophe, and allow your facility to stand out as a true amenity to current and potential residents. Many factors, including resident demographics, facility size and more can dramatically alter the formatting and design choices of your laundry room. Continue reading below for our best advice on the subject…
Room Layout
Develop the room layout first, including placement of dryers and their coinciding venting. As with all machines, laundry equipment needs to be serviced regularly to continue operating optimally. Plan your laundry room layout with enough room around and behind equipment to ensure there's adequate space for a service technician to work. You may choose to include a sink in your laundry room. While not an absolute necessity, a sink can be a very handy fixture in a laundry room.
Machine Placement
If possible, place dryers near outside walls for maximum venting efficiency. Keep in mind the wall behind your dryers must meet the required fire safety ratings for your property. If your facility is on the larger side, or your demographics are mainly families, it's common to arrange washers and dryers in clusters. However, in a smaller facility, we have found that 2×2 or 4×4 machine groupings can increase usable space and make your facility feel larger and more open. Speaking of washers, install your water heater near washers to minimize travel distance of hot water and maximize efficiency. Be sure to surround your water heater with proper fire-rated walls as well.
Flooring and Seating
The floor of your multifamily laundry facility should be composed of troweled concrete, with a slope to help direct any spills or overflow towards drainage installed in the floors. Nothing holds up to repeated abuse and moisture like concrete. If you chose to include a sink in your room design, be sure to install a drain with accompanying slope to account for misuse or overflow. Even if space is limited, it's a good idea to provide adequate seating for your residents. If your primary demographic is senior citizens, ample seating becomes a necessity.
Lighting and Safety
Design your facility with safety and security in mind. Installing glass walls, panels and partitions are an excellent way to provide a luxury appeal while improving the personal safety of your residents. Place entryways in highly visible, high-traffic areas when possible. Abundant use of fluorescent lighting or energy efficient LEDs also will improve the safety of your facility through visibility. The goal is to eliminate any personal danger through absolute visibility throughout your laundry area.
Folding Tables and Other Hardware
You must provide a minimum of six square feet of tabletop space per resident for folding clothes. You can approximate the number of simultaneous residents that could potentially fold by examining your resident portfolios cross compared with the number of dryers. Generally, the greater the number of dryers, the greater the amount of folding space required. It is always better to have too much, rather than too little, folding space.
Payment and other vended items also should be considered when finalizing the room design. Bill exchangers or card-reload machines may require direct AC power, as will any other vending device. This is a great time to consider installation of mobile payment hardware as well, to enable your residents to pay contact-free with their cellphones. Besides the essentials, consider what your residents would enjoy having access to while doing laundry. Wifi and televisions are a common request.
Discover the WASH Difference
We go above and beyond with expert design, installation and service. As a leader in the multifamily laundry business for more than 70 years, you can trust the depth of our knowledge and expertise. Make us your partner in clean today! Browse our machines or contact a sales representative today at (800) 236-5599.