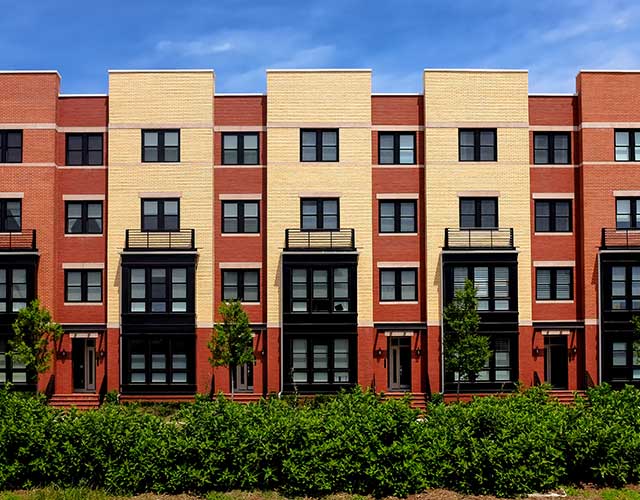 Creating the perfect apartment laundry room for your properties is a tricky balance. You have to have enough machines in good working order to handle the entire building's laundry, at a price point that will keep your tenants happy–all without losing money maintaining it.
Whether you're in charge of one building or a hundred, this guide will help you figure out the right laundry set-up for you and your tenants.
Factors to Consider
When creating your ideal laundry room for your apartment complex, you'll want to consider the following:
the size of the property
how often you want to update the machines
how much time and money you can devote to maintaining the machines
how you want residents to pay for using the machines
A four-unit brownstone full of families is going to have different laundry needs than a 150-unit complex with a wide variety of tenants.
The volume and frequency of laundry in your property will help you determine if you need a dozen commercial washers or just a few high-efficiency front-loaders.
Regardless of the type of property, any common-area laundry facility should be clean, brightly lit, safe, and convenient. If it's hard to use, people are more likely to do their laundry somewhere else.
Equipment: Should You Lease or Buy?
The first big decision you need to make about your laundry room is whether you buy or lease your laundromat equipment. If you buy washers, there's a higher upfront cost than leasing machines, but no recurring fees.
However, if you own your equipment, then you become fully liable for the machines. You take on the responsibility for the upkeep as well as any damage the machines might do to residents' clothes in case of a malfunction.
When you lease your equipment rather than buy dryers and washers, the lease usually comes with a service agreement. This helps keep the machines in good condition. If something does go wrong, the service agreement will have a provision for how to handle repairs and damages.
Another benefit of leasing is that it is easier to update your machines. When there are improvements in laundry tech, you can easily have the company you lease from swap out your machines without losing time or business.
Ultimately, buying your own equipment is right if you're looking for a more hands-on role in your laundry room. Leasing will let you keep control of the big picture without having to worry about the smaller details.
Tech Specs: Cashless Machines and Apps
A major consideration for your laundry room is how you're going to charge tenants. Coin-operated machines are now just one option. There are plenty of machines that operate via pre-loaded laundry cards, or even via an app.
Coin-operated machines are straightforward in their operation. However, they come with a variety of potential problems. Coin jams, vandalism, and inconvenience for tenants make this classic option troublesome.
Cashless machines solve these issues. When you use machines with a card reader, you avoid coin jams and a lot of vandalism. There is no coin collection compartment for anyone to try to open. The pitfall of using cards, however, is that losing them is like losing cash–which can be frustrating for tenants.
The best option for a modern laundry room, however, is an app-based payment system. If your tenants are agreeable to an app, then you avoid coin jams, lost cards, and other nuisances.
Laundry cards are a great way to split the difference between coins and an app if your residents aren't all comfortable using an app. The technological know-how and access for your tenants is something you should consider when deciding how to collect your revenue.
Service Agreements
Even with the best equipment available, you'll still need to make the occasional repair. Whether it's a tenant's laundry hack gone wrong or a broken part, eventually you'll need to service your machines.
There are two different kinds of service you will need for your laundry equipment. The first is repairs, which you would need anytime a washer or dryer malfunctions or breaks.
The second is regular maintenance, which is when a serviceperson checks over your machines for regular wear and tear. This would give them an opportunity to replace worn out parts or make adjustments before a machine malfunctions.
A service agreement from the company where you lease or bought your machines could cover either type of service, or even both.
Repairs vs. Regular Maintenance
If you're handy, or you have an on-site facilities staff that can handle minor repairs, you might need less hands-on maintenance. Like with any machine, there's always the possibility of a malfunction with your laundry equipment.
When you have staff with the right knowledge and experience, they can keep an eye on your equipment and solve minor issues before they become major problems.
However, if you aren't experienced with washer and dryer repair, regular service from a professional is in your best interest. Additionally, if you lease your machines, your agreement might prevent anyone other than a company service person from making repairs.
A full-service laundry company can be a convenient way to handle emergency repairs and regular maintenance. Consider a thorough service agreement for your laundry machines to keep your system functional, especially if you don't have a large staff.
Get the Best Apartment Laundry Room Possible
Managing an apartment laundry room can be a full-time job. Between finding the right machines, keeping them in good working order, and making sure your tenants are satisfied with the experience, it's enough to take up your entire day.
A laundry management service can take these worries off your plate—without taking your profits. Get a quote from WASH today to learn more about our lease programs, service options, and machine sales. We can help create the perfect laundry room for your property, your residents, and you.