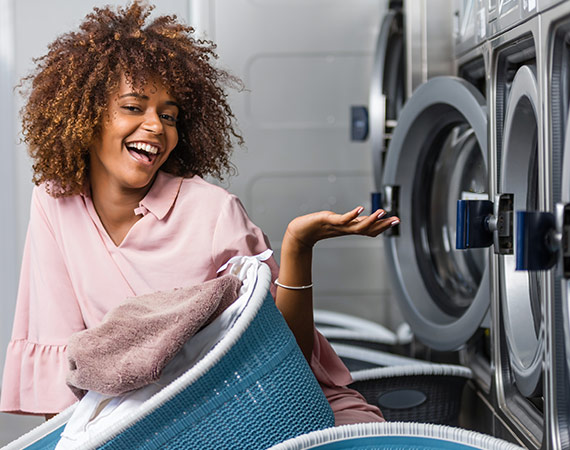 At WASH, our sole focus is laundry. We offer more than just commercial washer and dryer sales. With roots dating back to 1947, our laundry experts have extensive working knowledge and expertise to help you run a successful laundry facility.
"WASH is, and will be, my laundry service company of choice for two simple reasons: First, they have always exhibited a high level of integrity in their dealings with us at every level. They have demonstrated their sincere desire to work for our mutual benefit, rather than just their own. Second, WASH understands the concept of earning and keeping the business by providing solid customer service and keeping their promises. Based on my experience, some others in their industry don't seem to understand the importance of these attributes," comments William W. Brooks, CPM, Senior Vice-President, Sequoia Equities.
From multifamily apartment complexes, to laundromats, campgrounds, hotels, gyms, healthcare facilities and military bases, WASH is proud to serve the laundry needs of a variety of clients throughout the U.S. and Canada offering machine and parts sales, service and maintenance and more.
Multifamily: For shared laundry rooms in apartment complexes, condos and other multifamily locations, WASH has top-brand, energy-efficient equipment from Speed Queen, Maytag and Whirlpool in stock and ready. In addition to traditional coin-operated machines, we also offer card and app-based mobile payment systems. We can even handle delivery, installation, routine maintenance and repairs. Our expert team can help determine the best machines and service plan for your residents and budget.
Laundromats: Owning a laundromat is an accessible, solid investment opportunity for new or seasoned investors. And, we've got you covered. We offer top-brand washers and dryers from manufacturers such as Huebsch, Maytag and Wascomat — all at affordable prices in a variety of makes and models to ensure you get the best return on investment for your coin-op laundry. We even offer helpful investment guides if you're new to the laundry business.
On-Premise Laundry: Specializing in equipment sales to on-premise laundries for hotels and hospitality, healthcare facilities, gyms, health clubs, fire departments, athletic facilities and salons. Our equipment stands up to the demands of the heavy use of on-premise laundry. From single load to heavy capacity models, we offer washers extractors, large capacity dryers, disinfecting ozone systems and more. We also offer vended and non-vended homestyle laundry equipment.
At WASH we are transforming the laundry business with innovative tech, top-quality products and a solid track record of service excellence. Of course, a satisfied customer is greatest measure of our success.
"It was such a pleasure to work with WASH. I sent an inquiry about purchasing new washers and got a response very quickly. Your rep was so helpful. He walked me through the entire process, made sure I knew what I was purchasing and called to follow up. WASH will be my first call anytime I need to purchase equipment," comments Jennifer Beebe, Regional Director of Avanti Residential.
Contact us or call 800-236-5599 to learn more about our distributorship relationships, special discounts and available financing!