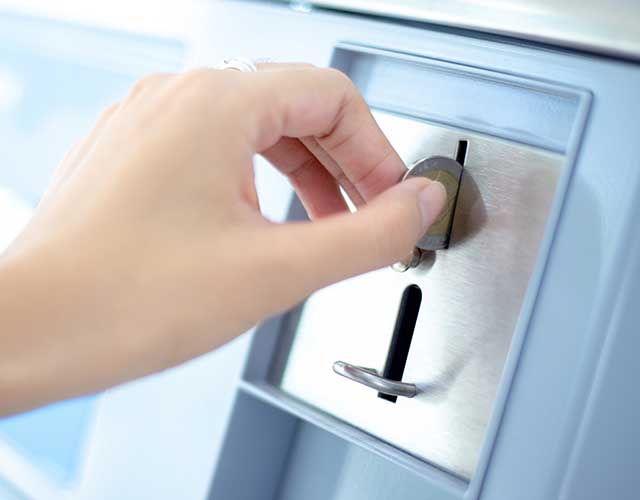 When you envision a public laundry area, does the sight of customers searching for coins come to mind? It probably does. And with good reason: vended laundry has a long history, and that history was paved in coins. These days, coin laundry hasn't quite been replaced, but numerous other options have risen in popularity and familiarity with laundry-doers. Vended laundry payment options have come a long way from the old coin-drop style. Sure, coin is still a viable option – but is it the best option? Continue below as we dive into the pros and cons of various laundry payment methods available to the vended laundry market!
Coin Laundry Has a History Rooted in Tradition
Coin laundry has long been the most familiar and time-tested payment method in laundry rooms and laundromats. The coin-operated laundry is practically an icon of American expansion and innovation. And collecting quarters for laundry day has become a habit for some who may prefer to coin laundry, even if there are other more convenient payment options available.
Coin laundry isn't without its drawbacks, however. As you likely know, a busy coin-op laundry facility will end up with a sizeable amount of cash on-hand, posing a small security risk. With the COVID coin shortage and the push for a cashless society, coin has become less convenient in the last few years as well. Coin-drop jams also can be a problem and can lead to increased service calls and damaged hardware.
Card Payment Is Just a Swipe Away
While coin may be the mainstay in many minds when conjuring images of a vended laundry, the popularity and convenience of plastic is undeniable.
First is your typical debit or credit card, which is swiped right at the machine. This method offers users a couple of unique perks – it encourages less cash on hand and is commonly carried by many users. However, credit/debit swipes at the machine do have their drawbacks. Some users may be uncomfortable with using their bank card due to fears of card skimmers or data breaches.
Second is the laundry card. A dedicated plastic card that can be reloaded at a kiosk or through an app and conveniently swiped or tapped at the machine to pull from its balance as needed. This method offers no transaction fees and no cybersecurity concerns when contrasted with credit/debit payment.
The Future Is Wireless!
Wireless mobile payment has been gaining traction at an incredible pace within the last few years. Digital payment has plentiful benefits for both users and operators. Front-and-center is the lack of cash onsite, a major boon to security. Mobile pay also offers the benefit of absolute payment security, never revealing any card or banking information to the app. The only true drawback to this technology is that it requires users to own a smartphone and to have good Bluetooth connectivity. Numerous benefits are shared across the cash-free payment platforms, namely security, speed and convenience.
Coin Is Still a Contender
Despite all the advantages of digital laundry, coin laundry is still alive and well. Regardless of how antiquated coin payment may be when compared against some of the blisteringly fast modern options, it's still preferred by some launder-doers. Realistically, a cash-free society is becoming more likely every day. The McKinsey Global Payments Report cited the COVID-19 pandemic as an accelerating factor for the move toward a society of cashless payments. Paying for your laundry wirelessly through an application on your phone would have seemed like science fiction 15 years ago — but it's available today!
Contact WASH today to request a quote to bring your property's laundry facility into the digital payment era!