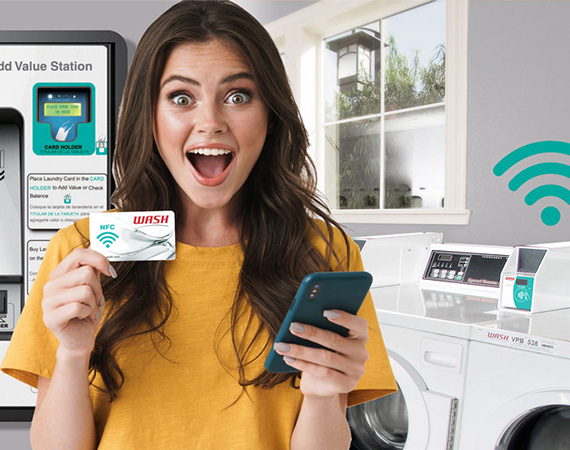 The future is here. Are you ready?
You may not be thinking in terms of your laundry rooms when asked that question, but WASH is. Don't let outdated amenities drive down the appeal and value of your property. WASH can bring you up to speed with digital laundry room solutions, customized for your unique facilities and residents.
One of the many effects of COVID-19 is the hastening toward a cashless society. Since March 2020, consumer demand for contactless/cashless payment has increased dramatically. A recent study revealed that 85 percent of residents are interested cashless solutions.* WASH is leading the charge with the introduction of cashless laundry rooms throughout the country.
Before you panic over the thought of the cost and complexity involved, read further. WASH makes it easy to incorporate new and emerging technology into your laundry options and provide a safer, more convenient environment for your residents. Not only that, your bottom line should improve!
Say 'yes' to laundry room revenue
We make the job of managing common-area laundry rooms easier and offer generous revenue-sharing options while doing it. Plus, we have seen an uptick in revenue in our laundry rooms with mobile payment. We deliver the equipment and service needed to keep facilities operating smoothly and to keep residents happy.
Here are just some of the ways WASH digital laundry rooms can save you time, money and anguish:
• Cashless payment options
• Improved safety and security
• Reduced vandalism and theft (no cash on premises)
• Real-time visibility to monitor laundry room operations
• Fewer service calls
• Performance and error reporting
How WASH Digital Laundry Rooms work
We deliver new, state-of-the-industry Bluetooth-enabled washers and dryers that connect to the WASH-Connect app. We service and maintain the equipment. Laundry rooms equipped with Ethernet or 4G modems provide enhanced connectivity.
You choose the cashless payment system that works best for your specific demographics:
• WASH-Connect app
• Credit/debit at the machine
• Contactless laundry card or
• Dual payment options
More advanced tech
For connected laundry rooms — built into the app — machines are even more productivity savers. If there's one thing any of us don't wish we had more time for, it's tedious admin work.
Use the Web portal to manage laundry room operations with real-time access to create accurate and traceable revenue counts, service history details, and fully customizable reports.
You also gain quick and secure ACH payment of your laundry room revenue.
Interfacing with residents
Laundry room kiosks provide easy instructions and instant connection no matter the choice of cashless payment.
Residents also enjoy perks through the mobile app, such as:
• Requests for service or refund
• Remote monitoring, with cycle countdowns and alerts
• Special promotions to increase usage and drive off-peak traffic
• Laundry education, stain removal guides and laundry tips for users
• Multilingual interface
The technology has been built to be user-friendly, ready to work and we have your back fully.
Your hardest decision will be which WASH package to choose.
Ride the technology wave with us! Our customizable tech bundles will make life clean and simple for both you and your residents. Request a quote for your property.
*February 2020 WASH Resident Survey