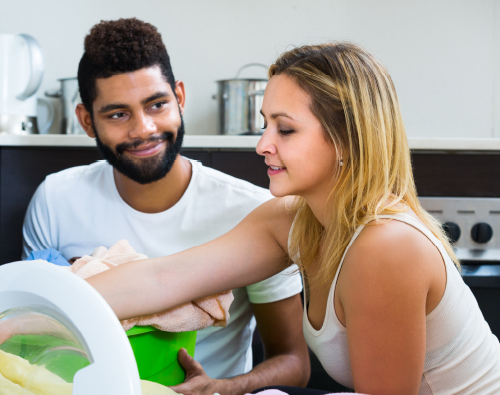 Whether you're looking to open a community laundry room or are debating whether you should make the switch from coin-operated machines to another payment option, we've outlined the pros and cons of both to help you make the decision that's right for you.
As technology is changing our everyday lives, there is a tremendous opportunity for property owners to stay on the forefront of new and emerging technology to ensure that the laundry experience is the best it can be. While residents may be used to coin-operated laundry equipment, it doesn't necessarily mean they like it. New coinless payment options offer a level of convenience because residents no longer have to worry about making a change – they simply just swipe their card or their phone and load their clothes.
Coin Laundry: It's What People Are Used To.
Historically, people who use communal laundry areas or go to laundromats have experience using the coin system. They know the drill: they'll need to cash in their bills for quarters in order to pay for their wash and dry. Coin systems are usually less expensive to purchase and operate, are easy to use, and easy for people to understand – even if English isn't their primary language.
However, coin systems are increasingly becoming more outdated and require the need to handle and manage quarters on an ongoing basis. And due to lack of technology, they don't allow you to track transactions or adjust prices beyond quarter increments (which can be a major deterrent for your residents when the price is raised by an entire quarter).
Card Systems: It's What People Are Coming to Expect.
From a business perspective, perhaps the biggest advantage of card systems is increment pricing, which allows you to adjust the price more frequently depending on utility costs and other factors. Card systems also allow you to completely remove cash handling from the property, and the ability to offer different promotions to incentivize your customers. Cloud-enabled technology captures data to track usage and gain insights that can help you determine how best to equip, price and maintain your facilities – ultimately leading to increased profitability.
However, while the system is easy to learn, some people may not be comfortable using a card and if there's no one around to ease them into the new technology, they may choose to do their laundry elsewhere – especially if they've never used a card service before.
Payment Apps: The Emerging Trend.
New mobile apps using Bluetooth technology and a secure digital wallet now make it possible for residents to pay for laundry from their phones – no quarters or card required. They simply download the app, add funds, see which washers and dryers are available, and swipe to pay.
Again, while app payment is easy and secure, some residents may be uneasy about using the new technology. However, the good thing about the app is that you can still offer the option of coin payment for those who prefer that method.
 WASH Services to Meet Your Needs
Whichever option you choose, WASH offers customers convenient choices for coin, card or app payments and the convenience and peace of mind of having your laundry service completely taken care of. For clients with coin laundry machines, we have strict and rigorous accountability protocols to ensure your revenues are accurately accounted for.
And as a laundry room technology leader, we offer the most advanced laundry systems in the industry that make doing and paying for laundry as simple as possible.
To learn more about our variety of services, visit https://www.washlaundry.com/services/services-maintenance/.