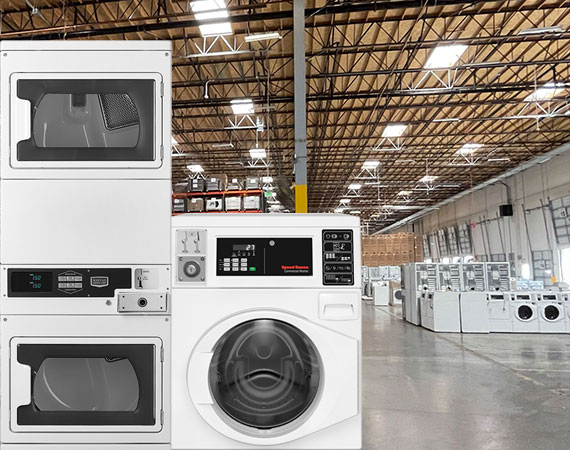 For property owners or multifamily managers, the purchase of laundry equipment is a major consideration that should not made suddenly or lightly. Make, model, features, energy efficiency, and ultimately the cost of the machines can make an already complicated decision feel impossible. With so many choices, it's easy to get overwhelmed and you may be tempted to go with the familiar and cheap options of a big box store. WASH is here to tell you that you've got better options. Our equipment sales division offers numerous advantages over traditional big box stores, while still providing industry-leading pricing! Join us as we highlight the advantages of partnering with the laundry professionals at WASH…
Expert Consult and Top Brands
When you partner with WASH, you're receiving personalized treatment, with equipment hand-picked for your needs by our laundry experts. Your demographics, usage, equipment budget, facility layout, and more can be used by our advisors to select the ideal hardware for your laundry room. Our experts will help you select from cash vended or card payment systems, as well as the optional inclusion of cutting-edge tech solutions like mobile payment. We even can help you with design, so you can be sure your residents will love their laundry facility and your investment will be kept safe. Plus, WASH always offers competitive pricing on all of our top-brand machines.
In-Stock, Delivered and Installed
WASH carries a full stock of washers and dryers from top brands like Maytag, Speed Queen, and Whirlpool that are commercially rated to withstand the heavy use of your busy laundry room. We can manage delivery and installation of your new machines to ensure everything is handled correctly, end-to-end.
Unlike big box stores, there's no extended delay before receiving your new equipment. Our unique position as a nationwide professional distributor and installer allows us to quickly get crucial equipment to your property, precisely when you need it. We can even handle haul-away of old equipment for you!
Beyond the Box – Service and More!
Big box stores are good at making a sale and sending you out the door – but what happens if the machine breaks down from wear and tear? Or it ends up damaged by a resident? The truth is, big box stores simply don't offer the level of support and quality experience that partnering with a company like WASH does.
We're more than just equipment — we also offer maintenance and service plan options, as well as on-call repair and parts sales. When you partner with WASH, your success is our success – and we aim to show that every step of the way.
Partner with the Pros!
Whether you're looking to replace a single machine, or you're just outfitting a multifamily laundry room for the first time, purchasing laundry equipment is a major undertaking. When you purchase washers and dryers from WASH, you're gaining a partner who is invested in your success and satisfaction. Browse our machines or contact us today for a free quote!