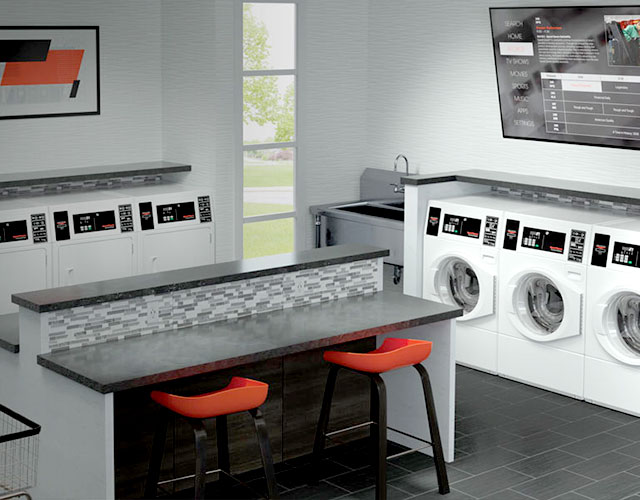 Did you know the average American family washes 8-10 loads of laundry per week? As long as people wear clothes, they will need a place to launder them. Though a home washer and dryer are common household appliances, many people live in apartments or houses without them.
These people turn to the trusted local laundromat.
Perhaps you've seen the machines spinning on a Saturday afternoon and wonder whether it's a good business. It is! Starting a laundromat is a way for you to make thousands a month in passive income.
Do you want to know how to start a laundromat? Check out this guide to learn more.
Scout Locations
A laundromat is a business like any other, and location is vital to your success. A community that needs a coin-operated laundry but doesn't have one is a great place to start. Or, you can choose a location where there is competition, but the competition is less than desirable or needs an upgrade.
Best Places to Open a Laundromat
The best places to open a laundromat are locations where people don't have access to in home laundry. Urban locations near apartment complexes are a good bet. Though apartment buildings often have a laundry room, residents will often leave property for reliable machines that wash and dry large loads of clothes in one cycle.
College towns are also fantastic spots for a successful laundromat. Students who live in dorms that don't have on-campus laundry rooms or live in off-campus apartments need a place to wash their clothes, especially if they live far away from their parents.
You can also make money in a small town, especially if that town has a main street or business district. Though suburban folks are more likely to have home washers and dryers, they often produce large loads that only commercial washers can handle. If you opt for this type of location, make sure there is no competition.
Determine Start-Up Costs and Secure Financing
If you're starting a laundromat from scratch, you're going to incur initial start-up costs. All businesses need capital to launch, and with a laundromat, you'll have to find the money to buy all the necessary equipment.
In many cases, the space for your new laundromat will need remodeling and upgrading. You must make sure your building's electrical grid can handle the energy usage. You also have to secure the necessary municipal permitting for washer hook-ups and sewage.
Needed Laundry Equipment
After you've found your location, calculated remodeling, and permit costs, you can then purchase your equipment. This is where you buy washers and dryers. To the naked eye, these washers and dryers are the only things you need.
The truth is, there's much more involved in a laundromat than washers and dryers. You'll need:
Laundromat furniture like tables and chairs
Scales to weigh loads of laundry
Bill and coin changers
Racks to hang clothes
Detergent dispensers
Food and Beverage vending machines
Bags and nets
These are all purchases you must make after you buy dryers and washers, though they are bare bones. Laundromats are a competitive business, and many entrepreneurs now add a unique twist. There are now laundromat bars, pizza shops, and arcades that offer patrons a fun diversion while they wash.
Financing Options
Most small business start-up owners don't have the liquid capital to lease a location and buy all the necessary equipment. You'll have to find investors and also secure financing.
One way to find investors is through your family. A laundromat, unlike a restaurant or bar, makes a fantastic family business because there is little to bicker over. The income is mostly passive, and you can keep all possible disputes at a minimum.
Even with family help, the costs will require financing. Aside from SBA loans, some manufacturers offer to finance to business owners. Doing so will help you save money in the short term and allow you to diversify your remaining start-up capital.
Buying an Existing Business
You also have the option to buy an existing business, and doing so has several advantages. You don't have to worry about finding a location or buying equipment. If the location is well-maintained, you can have the lease transferred and make any necessary upgrades.
Determine Management Responsibilities
A laundromat is a fantastic way to make passive income, but that doesn't mean you won't have to do work. Keeping your laundromat maintained, clean, and inviting is crucial for winning new customers.
Daily and weekly management tasks include mopping the floors, checking the operational status of the equipment, and removing any trash. As the owner, these jobs are your responsibility. You have to determine how and when you'll handle them.
If you're hoping for your laundromat business to become a passive moneymaker, you'll have to employ a management team to take control of the day-to-day duties.
Engage Other Revenue Streams
A clean, welcoming space is vital to your laundromat's success. You also have to offer reasons for people to come back, especially in a competitive market. Though you may not want to go as far as opening a bar or cafe in your laundromat, amenities like free wi-fi and a dedicated laundry staff will help you stand out.
Other coin-operated revenue streams like food and beverage vending, pinball, and arcade games will help boost your income. People want something to do while they wait for their laundry. Rather than pushing your customers to the corner store for necessary provisions, keep their cash in your business.