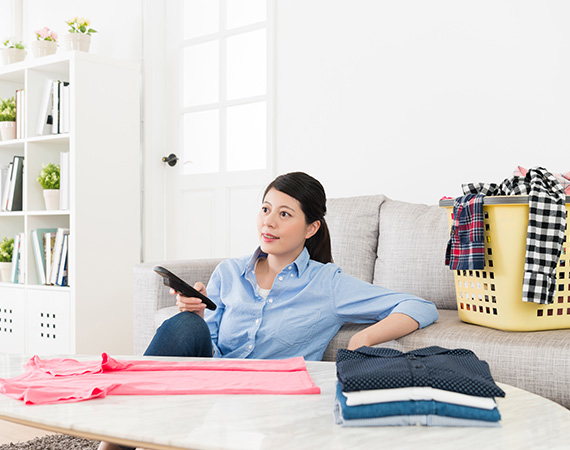 Are you the type to find zen in the simple act of doing laundry? Or are you more the "get this done and get it away from me" laundry personality?
Let's face it, some days you just need to be as speedy as possible in the laundry room. Luckily, we have seven shortcuts to help you trim precious time off this necessary chore. Try these tricks to get you out of the laundry room in no time.
Sort at Home – Sort your laundry into proper loads before you go to the laundry room, especially if you tend to do laundry during peak hours.
Use Laundry Pods – If you're doing multiple loads, you can save some time by using laundry pods instead of measuring out liquids per load.
Pay with Your Phone – If your laundry room offers mobile payment, it's a great time saver. Pre-load your digital wallet at home to make the payment process even quicker.
Monitor Machine Times – Use an app to track machine cycles and receive real-time alerts upon load completion. If your laundry room is not yet mobile enabled, simply set an alarm on your phone for the estimated time of a single cycle.
Dry by Weight – Separate loads and place similar weight materials, such as towels, together for more even drying and less wrinkles.
Fold While You Wait – Drying by weight means you may have to wait for your heavier items to dry while your lightweight articles are already done. Seize this opportunity to fold your lighter items while you're waiting. Efficiency is the key!
Finish Up at Home – If you've got a hot date with your favorite primetime television show, remove the clothes from the dryer immediately upon completion and turn that sofa into a folding table. Don't delay too long or wrinkles may set into materials.
Doing laundry doesn't have to be your favorite activity, but it shouldn't be a time-sink either.  Efficiently managing your time is as easy as being mindful and staying active. We encourage you to check out our article library, social media and YouTube for helpful how-tos, tips and more!