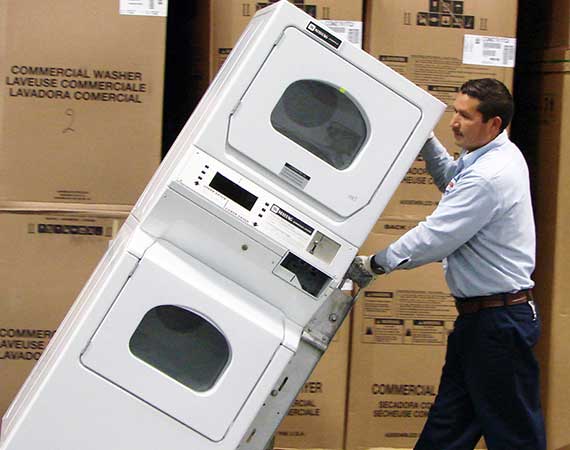 Join us as we take an in-depth look into self-operating your common area laundry room, including: the how-and-why of multifamily laundry room design, detailed equipment model information, buying guidelines, and expert management tips so you can run your laundry facility like a professional.
Operating your own common-area or shared laundry room can be a very fulfilling and profitable enterprise when properly established. But what makes a laundry room successful and alluring to residents?
Multifamily Laundry Room Design Tips
The most important aspect of establishing and running your own laundry room is the design. A well-planned laundry set-up can make a world of difference with resident attraction, as well as affect your laundry room's energy efficiency. Let's dive in.
Place dryers on outside walls for most efficient venting. Adhere to fire and safety codes.
Arrange washing machines and dryers in clusters or banks to keep things convenient and to improve the room flow.
Supply clothes-folding areas with a minimum of six feet of table space per expected user.
Use glass walls and partitions to maximize visibility and security.
Consider the addition of a sink or two to your layout — they come in handy.
Floors should have plumbed-in drainage and a slope to encourage liquid towards the drains.
Install laundry equipment and furnishings with ease of movement in mind. Washing machines and dryers should have enough clearance for a service technician to access it easily.
Washer and Dryer Availability
If purchasing your laundry machines, look for dependable, high-efficiency top brands like Speed Queen, Maytag and Whirlpool commercial machines – they are designed to endure the heavy use and demands of a busy common-area laundry. Let's take a closer look at their features.
Front-Load High Efficiency Washers (Speed Queen SFNNCASP115TW01, Maytag MHN33PDCWW, Whirlpool CHW9160GW) – Use less water during cycles, while extracting more water from clothes, making them quicker to dry.
Top-Load Washers (Speed Queen SWNNC2HP115TW01, Maytag MAT20PDAWW, Whirlpool CAE2745FQ) – Traditional agitator-style washer. These typically cost less upfront, but use more energy and water, making them pricier in the long run.
Heavy-Capacity Washers – Has the capacity to handle larger loads.
Stackable Dryers (Speed Queen SSENCAGW173TW01, Speed Queen SSGNCAGW113TW01, Whirlpool CSP2940HQ) – Stackable dryers are great for small or large laundry rooms, saving floor space.
Stackable Washer/Dryer Combos (Speed Queen STENCASP175TW01, Speed Queen STENCASP115TW01, Maytag MLE22PDAYW, Maytag MLG27PDBWW, Whirlpool CET9000GQ, Whirlpool CGT9000GQ) – These stackable units are great for saving space, making them ideal for in-unit laundry.
Consider buying from a company that specializes in selling multifamily laundry machines, such as WASH Multifamily Laundry Systems, that has a well-stocked inventory of commercial washers, dryers and parts for immediate delivery. Also, be sure to ask about the option of washer and dryer installation and service.
Resident-to-Machine Ratio
Apartment resident demographics can alter this ratio, based on expected usage. See below.
Families – 1 washer/dryer per 8 to 12 units
Young Working Adults – 1 washer/dryer per 10 to 15 units
Older Working Adults – 1 washer/dryer per 15 to 20 units
Students – 1 washer/dryer per 25 to 40 students
Senior Citizens – 1 washer/dryer per 25 to 40 units
Payment Methods and How to Price for Laundry
If you're self-operating your laundry room, payment and pricing may be a concern. Typically, laundry machines can be outfitted to accept coin or card payment, as well as contact-free mobile payment. While pricing too low can cut into profits, pricing too high can cause residents to go off-site for laundry. Compare against the local competition, including laundromats, and consider commissioning a market analysis to help determine proper vend pricing.
Common-Area Laundry vs In-Unit
In-unit washers and dryers can be extremely convenient and alluring for residents, allowing them access to a machine when they need it. However, opting for in-unit laundry can have its drawbacks as well. Namely, in-unit machines have the potential to create property damage if misused or not maintained. Running a common-area laundry also has higher profit margins compared to in-unit installations. Plus, shared laundry rooms have the benefit of saving on energy and water usage, decreasing average number of loads per unit, therefore decreasing operational cost and further increasing profitability.