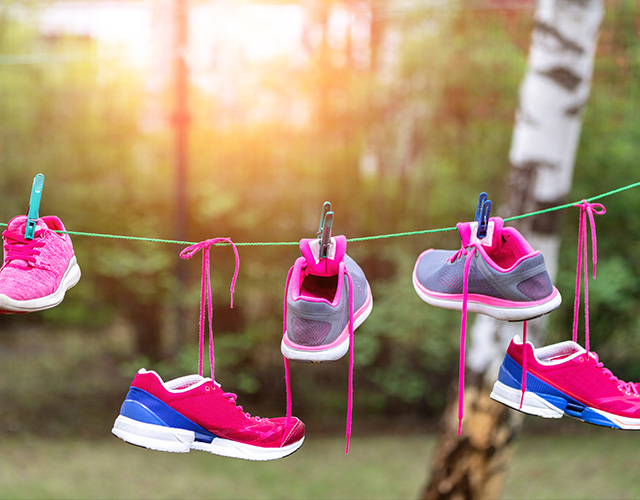 Consider these drying tips and advice to prevent damaging your clothes on laundry day
Clothes dryers provide a fast and easy solution to laundry's oldest, muskiest problem – wet clothes. They're not meant for everything, however. Putting incorrect items in a dryer can cause problems ranging from damaged clothes to a machine fire. Don't fret — WASH is here to help! We're providing a quick reference guide below to help you avoid these laundry blunders. Let's dive into it…
Activewear – Modern activewear is designed with moisture wicking and antimicrobial properties in mind. The properties in these man-made fibers can be easily destroyed by high heat. Be sure to air-dry these high-tech fabrics. You've been warned!
Bath Mats – What item can you imagine you'd want dry more than a bath mat? Unfortunately, most bath mats have a rubber backing that can fall apart, melt and even cause fire inside of a dryer. Hang in a sunny space after washing for best results, the UV light serves as an added sterilizer to boot!
Bras – These undergarments fare poorly in the dryer. Tumbling and heat will misshape bras, as well as destroy elasticity. Bra straps and underwires also can slip through the edge of the dryer and can get stuck in between the spinning drum and panel. Please, hang dry only!
Delicate, Sheer and Silks – Delicate undergarments such as tights, lingerie, sheer fabrics and silks can be easily destroyed by the high heat and tumbling of a dryer. Hang these or lay them flat for best results.
Elastics – Keep bathing suits, shapeware and other spandex/elastic items out of the dryer to preserve their elasticity. The tumbling and heat can tangle, stretch and destroy the materials.
Footwear – Shoes, slippers, flip-flops. Whichever you prefer, the heat of a dryer can separate layers, melt rubber and distort performance fabrics. Air drying your footwear in the sun will yield the best results – both for the material and the odor. Stuff damp footwear with paper to speed up the drying process, as well as help it retain its shape as it dries.
Fuel or Chemical Rags – Any items soaked from gasoline, oil or other flammable chemicals should never be placed in a dryer. The fumes from these items can ignite and cause a fire or explosion inside of a dryer unit.
Leather – The high heat and friction of a dryer will cause cracking and damage to even faux leathers. Hang out of the sunlight to dry instead.
Lined Storage Bags – Things like lunchboxes, backpacks and reusable shopping bags often contain plastic linings or other heat sensitive materials. Unless your bag is 100-percent cotton, skip the dryer.
Plastic Beads or Sequins – Skip the dryer for these. The heat can loosen glue or melt the plastics. Even on a cool cycle, beads and sequins can become stuck and dislodged.
Wools and Other Knits – Real wool should never be placed in the dryer unless your aim is to shrink it dramatically. Knitted woven items can lose their shape, either stretching or shrinking, due to the heat.
While dryers are generally safe for many materials and items, be sure to consult the list above if you're unsure. Being careful will not only prevent you from damaging your laundry, but also will help keep the dryer in top-working order. Try to make a habit of checking the tag on new non-cotton purchases to help avoid making a costly, heart-breaking laundry mistake with a brand new item. Check out our Library on wash.com, or follow our socials for more helpful and informative articles and videos. Happy laundering!