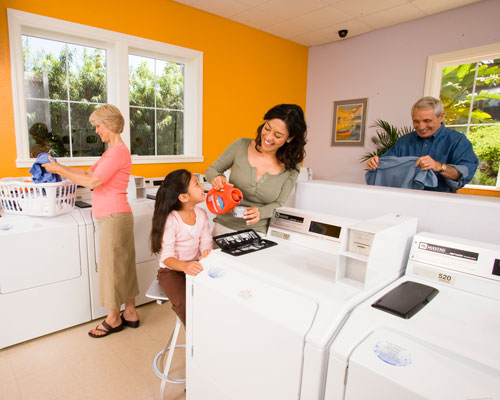 If you're planning new construction or renovations to your multifamily property, don't forget the importance of good laundry room design.
Studies show that a convenient and well-maintained shared laundry room is a must for resident satisfaction and retention. The effective design makes the laundry room a true amenity and doing laundry less of a chore for your residents.
WASH Multifamily Laundry Systems offers these 10 tips for good laundry room design.
Dryers — Start with dryer location when developing room layout. Dryers should be situated on an outside wall whenever possible for most efficient venting. Walls behind dryers must meet required fire ratings.
Washers — In large facilities, washers and dryers may be arranged in banks or clusters. Smaller rooms should be arranged in 2 x 2 or 4 x 4 groupings.
Seating — Adequate seating should be provided, especially when the predominant resident profile is senior citizens.
Folding Area — A minimum of six square feet (2' x 3') of table top space is needed for one user to fold clothes. The greater the number of dryers in a room, the greater the need for folding space. It is better to have too much folding space than too little. Plan accordingly.
Floor and Drainage — Always use concrete with a troweled finish and sloped toward the floor drain.
Security — Laundry rooms should be designed to eliminate personal danger. This includes planning entry ways on main traffic patterns along with using glass walls or panels, when possible, to provide total visibility and eliminate screened areas.
Water Heater — Should be placed near washers and protected by proper fire-rated walls.
Lighting — Energy efficient or fluorescent lighting is recommended. Rooms should be well illuminated with fixture selection suitable to room size.
Sinks — While not required, you may want to consider including them in your layout. Be sure to design to provide for occasional overflowing from misuse.
Passage/Service Space — Provide ample room for passage around equipment and furnishings. Always allow adequate room for machines to be serviced.
In addition to the basics, put some thought into the bells and whistles of your laundry room design. Would your residents appreciate a flat screen wall mounted TV and/or free Internet access? What about a reading nook with a small library of books? Also, consider including mobile payment options so residents won't need to search for quarters every time they do laundry.