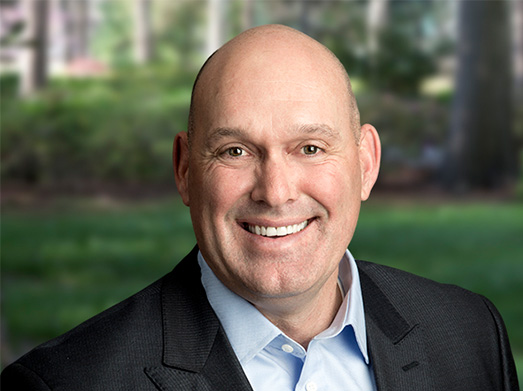 January 14, 2019
Service Industry Veteran Heads Award-Winning
Laundry Company's Expansion with a Tech-Forward Focus
January 14, 2019 – El Segundo, Calif. – WASH Multifamily Laundry Systems, North America's leading laundry facilities management service company, announced today that Jim Gimeson has been appointed its chief executive officer. An accomplished leader with decades of experience, Gimeson will focus on strengthening the WASH brand, and driving consumer and industry engagement, while guiding the long-term strategic expansion of the business.
"We are excited to welcome Jim to WASH," says Jim Bolch, Chairman, WASH Board of Directors. "Jim's wealth of knowledge, experience, and leadership will be a great asset to WASH as we continue to drive forward with our strategic growth initiatives," adds Bolch.  Accustomed to working in high-growth transformational environments like WASH, Gimeson has been highly successful in repositioning businesses, leading them through strategic initiatives, expanding service lines, and driving growth through mergers and acquisitions.
"I truly appreciate the opportunity to serve as WASH's CEO," says Jim Gimeson. "I look forward to leading WASH during this monumental time of growth and innovation. While positioning the company for expansion, among my top priorities will be broadening our commercial and consumer offerings through business development, enhancing digital capabilities, and continuing to introduce tech-forward solutions to elevate the overall customer experience," Gimeson adds.
Gimeson brings to his new role a depth of knowledge in both consumer and business-to-business service industries with demonstrated experience in finance, business development, global strategy, technology solutions, manufacturing and operations. Prior to joining WASH, Gimeson served as chief operating officer for Sears Home Services, the nation's largest appliance repair, HVAC and home improvement service provider delivering more than 52-million solutions for homeowners and commercial businesses annually. Prior to Sears, Gimeson was the chief operating officer at TruGreen.  In this role, his leadership contributed to the company's significant financial growth through improved performance and new products and services.  Gimeson also spent 18 years in executive roles within the retail and direct selling industries with Smith & Hawken and the Longaberger Company. Gimeson earned a B.A. from Muskingum University and a M.B.A. from Ohio State University.
About WASH
WASH introduces ease and convenience into the laundry experience with their tech-forward solutions, expert management and top-of-the-line equipment. A multinational company operating and 20 U.S. states and all the Canadian provinces, WASH provides a variety of innovative laundry solutions for multifamily, campus and on-premise laundry operations. It is estimated that 7-million people do their laundry in a WASH facility.  WASH is a privately held company founded in 1947 and based in El Segundo, Calif. You can learn more about how WASH is transforming laundry at www.wash.com or calling 800-421-6897, ext. 1600.